Introducing Our Versatile 2-in-1 Floor Scrubber with Wiper for Effective Cleaning!
Discover the ultimate cleaning solution with our innovative 2-in-1 Bathroom Cleaning Brush. This multifunctional tool combines a floor scrub brush and a rubber scraper, providing efficient cleaning for your space.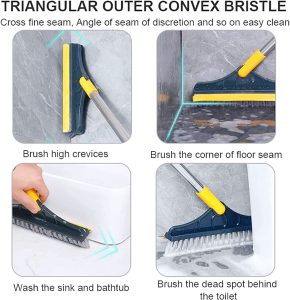 Key Features:
V-Shaped Hard Bristle: Our tile cleaner brush boasts V-shaped stiff bristles, specially designed for tackling hard-to-reach corners, cross grout, gaps, and crevices in your bathroom and kitchen. It effortlessly fits into grout lines, tight spots, corners, and more, effectively removing stubborn dirt, dust, and stains from floors and walls without causing any damage.
120° Rotating Removable Head: The bathroom floor cleaning brush features a 120-degree rotating pivot joint, ensuring the perfect angle for deep cleaning tasks. The long handle can be detached for scrubbing sink gaps and window bottom rails, providing comprehensive cleaning coverage.
Enough Length for Convenience: The brush's length is carefully designed to prevent bending or kneeling during use, ensuring a comfortable cleaning experience without straining your back or knees. The handles are easy to assemble and securely connect for reliable use.
Durable and Easy to Store: Crafted from wear-resistant materials, the bathroom cleaner brush is built to last. The strong stainless steel handles are rust-resistant, guaranteeing long-term usability. Stiff PP bristles retain their shape and strength even after repeated use. The brush also features a hanging hole for vertical storage and quick drying.
Versatile Usage: This versatile floor scrub brush serves as both a floor cleaner and an outdoor push broom. Whether for wet or dry cleaning, it excels on hard floors, tiles, bathtubs, swimming pools, carpets, balconies, decks, living rooms, patios, garages, sidewalks, stadiums, and various outdoor areas.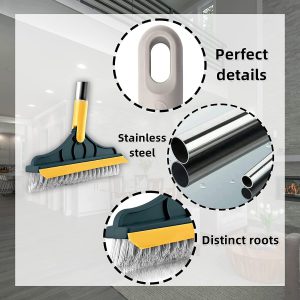 Upgrade your cleaning routine with our 2-in-1 Floor Scrubber with Wiper. Experience efficient and effortless cleaning across a range of surfaces. Order now to enjoy a cleaner and more hygienic living environment!