Introducing the Flawless Eyebrow Hair Removal Cell Operated, the ultimate solution for achieving flawless eyebrows in Pakistan. This innovative device combines advanced technology with convenience, allowing you to effortlessly groom your eyebrows in the comfort of your own home.
The Flawless Eyebrow Hair Removal is powered by a long-lasting cell, ensuring continuous operation for precise and flawless results. Say goodbye to the hassle of cords and chargers, as this cordless design provides you with the freedom to groom your eyebrows anywhere, anytime.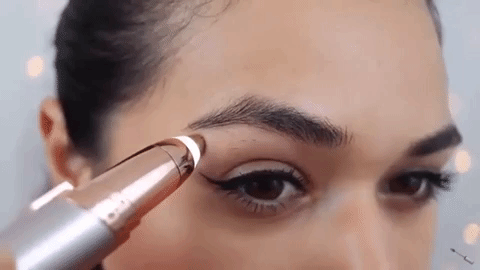 Features:
Precise – This Painless Electric Eyebrow Trimmer is designed with precision technology. 

Its accurate tip helps remove unwanted hair and targets the most minor areas to help you maintain perfect eyebrows.

 You no longer need to use painful tweezers!
Painless and Comfortable – Specially designed for flawless eyebrows, it instantly and painlessly removes any unwanted eyebrows without irritation, blemishes, cuts, bumps, or redness.
Stylish and Portable – Being the size of lipstick, it provides optimal hair removal at all times 

for women who have no time to go to the salon again and again.

Very ideal for traveling.
Built-in LED Light – 

The LED light helps to reveal the smallest hair 

to ensure complete trimming.
This device features a precision tip that allows for targeted hair removal, enabling you to shape, define, and clean up your eyebrows with ease. Say goodbye to tedious plucking or waxing and embrace this efficient and painless alternative that saves you time and effort.
Designed to cater to the needs of the Pakistani market, the Flawless Eyebrow Hair Removal is suitable for all skin types, including sensitive skin. Its gentle hair removal mechanism ensures a pain-free experience without causing any redness or irritation, making it ideal for the Pakistani climate and skin conditions.
The Flawless Eyebrow Hair Removal boasts a sleek and ergonomic design that fits perfectly in your hand, providing optimal maneuverability. Its compact size makes it convenient to carry in your purse or makeup bag, allowing you to groom your eyebrows on the go and maintain your flawless look throughout the day.
With the Flawless Eyebrow Hair Removal Cell Operated, achieving perfectly groomed eyebrows has never been easier in Pakistan. Say goodbye to unruly brows and hello to defined arches that enhance your natural beauty. Experience the convenience, effectiveness, and pain-free grooming offered by this remarkable device.
Additional Features:
Safeguard Trimmer: Painlessly remove unwanted hair without irritating, or cutting your skin.
O-Ring Light: Guaranteeing you'll never miss a hair.
Compact Size: Store it in your wallet, purse, or bag easily.
Delicate Anti-Allergy 18k Gold-Plated Tip.
INSTRUCTIONS:
Carefully Remove Cap.
Click the Power Button to Activate the Device.
Pull the skin tight, & place the epilator against the skin.
Move the device gently in a circular motion in desired areas.