HAVING A HARD TIME TEACHING YOUR KID HOW TO BRUSH THEIR TEETH?
Introducing the U Shaped Toothbrush for Kids, a fun and effective dental tool designed specifically for children in Pakistan. This innovative toothbrush features a unique U-shaped design that makes brushing easier and more enjoyable for little ones.
The U Shaped Toothbrush for Kids is carefully crafted with soft and gentle bristles that effectively clean teeth and gums without causing any discomfort. The U shape hugs the contours of the teeth, ensuring thorough cleaning of all surfaces, including those hard-to-reach areas.
Let your child fall in love with tooth brushing! Three sides of 8 layers of bristles surround and clean deep into the teeth – effectively cleaning stains inside and outside the teeth.
Designed with children in mind, this toothbrush is lightweight and easy to hold, allowing kids to have better control and maneuverability while brushing. The ergonomic handle provides a comfortable grip, making the brushing experience more enjoyable for children.
The U Shaped Toothbrush for Kids encourages proper oral hygiene habits from an early age. Its vibrant colors and playful design make brushing a fun and exciting activity for kids, helping to develop a positive attitude towards dental care.
 Features:-
Strong Material:- The U-Shaped Toothbrush is made of a silicone material, which is strong and durable, removing the plaque off teeth while not irritating the gums of young children.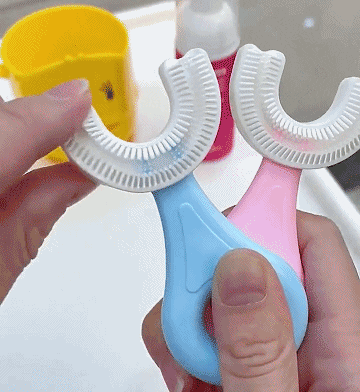 Dentist-Recommended :- Unique brush head cleans all sides of the tooth all at once while developing good brushing habits and reducing the occurrence of tooth decay. Soft, rounded bristles are gentle on your little one's teeth and gums.
Easy to Use :- The U-Shaped toothbrush is the perfect, easy-to-use way of keeping your little ones' teeth shiny and clean! It fits the shape of toddlers' or kids' mouths well and helps for teeth cleaning in all directions. This toothbrush can make brushing teeth much easier for kids and create a good habit for life!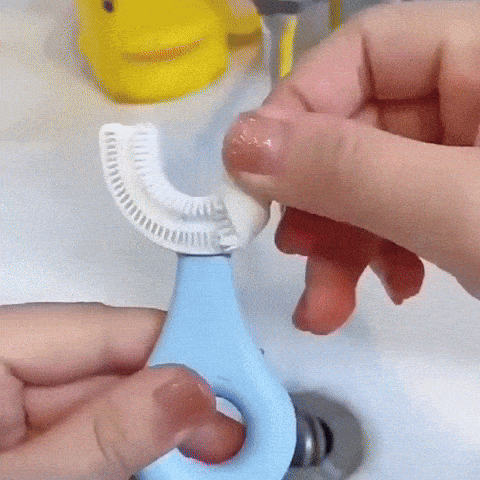 Safe And Reliable :- For kids' safe and comfortable brushing experience, it applied food-grade silicone and appropriate soft materials. Easy-to-grip handles to provide comfort and control while brushing. The cute and interesting appearance of the toothbrush makes children more interested in brushing their teeth.
In addition to its user-friendly design, this toothbrush is made from safe and durable materials, ensuring long-lasting use. It is also easy to clean, making it a hygienic choice for children's oral health.
In Pakistan, where dental care for children is crucial, the U Shaped Toothbrush for Kids is a must-have tool to promote healthy oral hygiene habits. Give your child the best start to maintaining a bright and healthy smile with this specially designed-toothbrush.
Benefits
Cleans teeth in all directions:- Due to the shape of this revolutionary toothbrush, it makes it easy to brush your teeth or gums at every angle and in hard-to-reach areas with ease.
Perfect for brushing toddlers' mouths :- The U-Shaped Toothbrush makes it so much easier to brush the teeth of young children without having to pry their mouths open or fight their bites.
Makes brushing teeth more enjoyable:- It is essential for young children to brush their teeth to get into good habits and form strong teeth. With the U-Shaped Toothbrush, it makes it that much easier and more fun for young children to keep their teeth clean and strong!
Great for Sensitive Teeth :- This toothbrush is great for brushing teeth effectively while not causing any soreness for sensitive teeth or gums. It can make brushing much more enjoyable for young children whose gums and teeth are still developing.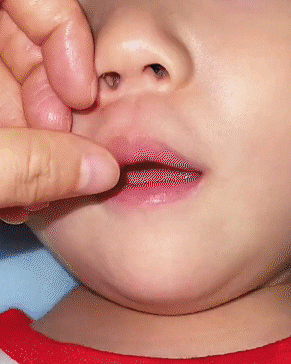 Good Grip Handle :- The U-shaped children's Toothbrush has a nicely shaped handle made of quality plastic that is both strong and durable, so your child can hold on to it firmly. The Handle on the U-shaped Toothbrush is lightweight, but still a proper size and length to fit into a kid's hand, so they can get a good grip on it and use it with ease.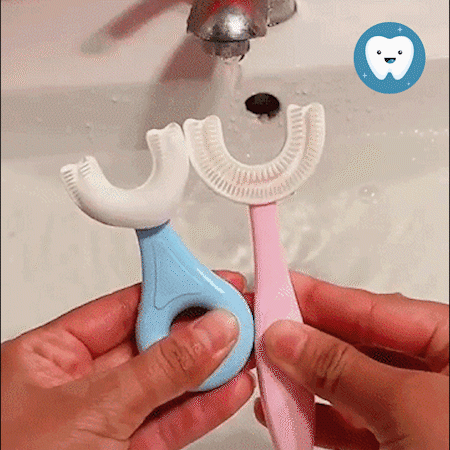 Kid Friendly :- The SweetSmile 360° U-shaped children's Toothbrush is designed with your little ones in mind. Complete with soft bristles to protect gums, reduce damage and have safer brushing!
Develops Skills in Children :- With the rotating motion of the SweetSmile 360° U-shaped children's Toothbrush, this can increase their fine motor skills and encourage young children to develop a sense of independence as they learn to brush their teeth from as young as two years old.
Improves Oral Hygiene in Children :- By making teeth-brushing fun with our uniquely-shaped .360° U-shaped children's Toothbrush, this can improve oral hygiene at an early age and promote healthy habits for years to come!

---
 How To Use
Step 1:- Just put the paste in it and move around the teeth